Tim Burns wins 2019 Perth Royal Art Prize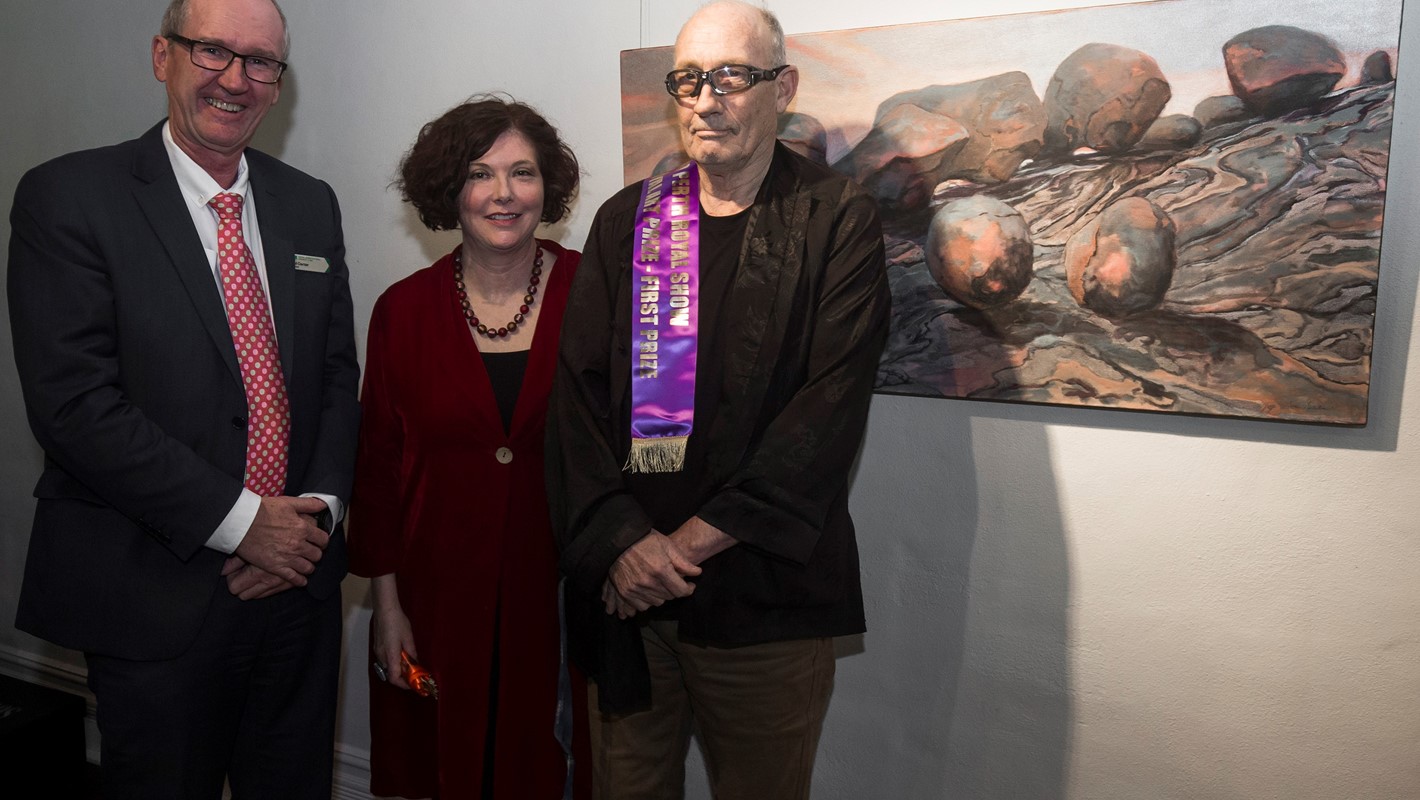 Congratulations Tim!
Tim Burns wins the third Perth Royal Art Prize, announced on Monday 23 September 2019 to a packed gallery at the Perth Royal Showgrounds.
Tim is the third consecutive member of Art Collective WA to win the Prize. Olga Cironis won the inaugural award in 2017, followed by Penny Coss in 2018. And each year Art Collective WA artists are well-represented in the pool of finalists. (This year 52 finalists were chosen from 253 entries.)
The non-acquisitive $20,000 Prize has become a significant part of the Royal Agricultural Society of Western Australia's strategy of promoting the significance of rural Western Australia and the state's primary industries. The RASWA is also responsible for the organisation and management of Western Australia's largest annual community event, the Perth Royal Show.*
An internationally acclaimed artist, Tim Burns' art career started in secondary school - mentored in painting by celebrated artist Robert Juniper. Although consistently painting throughout his 50 year art practice, Tim is an artist who cannot be defined as a painter only. He is a multidisciplinary artist who holds no allegiance to any one medium, also working across sculpture, performance, video and theatre.
Lucas Ihlein in the February 2011 edition of 'Artists Profile' magazine describes Tim "as an important figure in the history of Australian underground art. He rose to notoriety in the early 1970s with a series of (literally) explosive art actions, before decamping to New York, where he remained, on and off until the mid-1990s. He now resides on a large property near the town of York, in Western Australia. Rather than identifying as a painter, filmmaker, karaoke videographer, installation artist, theatre director or performer (although he has done all these and more), Burns calls himself "a context artist". What unites the varied set of projects Burns has worked on over the last forty years is a constant desire to set up situations which critically reflect on our hypermediated, industrialised western society. His interventions are usually created live, in the public sphere, rather than being quietly crafted in the privacy of a studio setting. More often than not, they result in some sort of dramatic surprise or shift in the participants' attention."**
Since moving back to the Wheatbelt of WA, Tim's work has often "centred around the Aboriginal history of the York area where he has acquired a granite quarry annexed from the Balladong sacred site for men's business and with the support from the local Aboriginal elders."**
Artists' Talk: Tuesday 1 October 2019, 6.30pm.
Exhibition Dates: 28 September - 5 October 2019, 9am-8pm.
Please note: General Show admission prices apply during the 2019 Perth Royal Show. Twilight Tickets are available at the Gate after 5pm​.
(Adult $22/Child $11/Concession $14. Credit card extra fees apply.)
*Read the RASWA media release.
**https://www.daao.org.au/bio/tim-burns/biography/