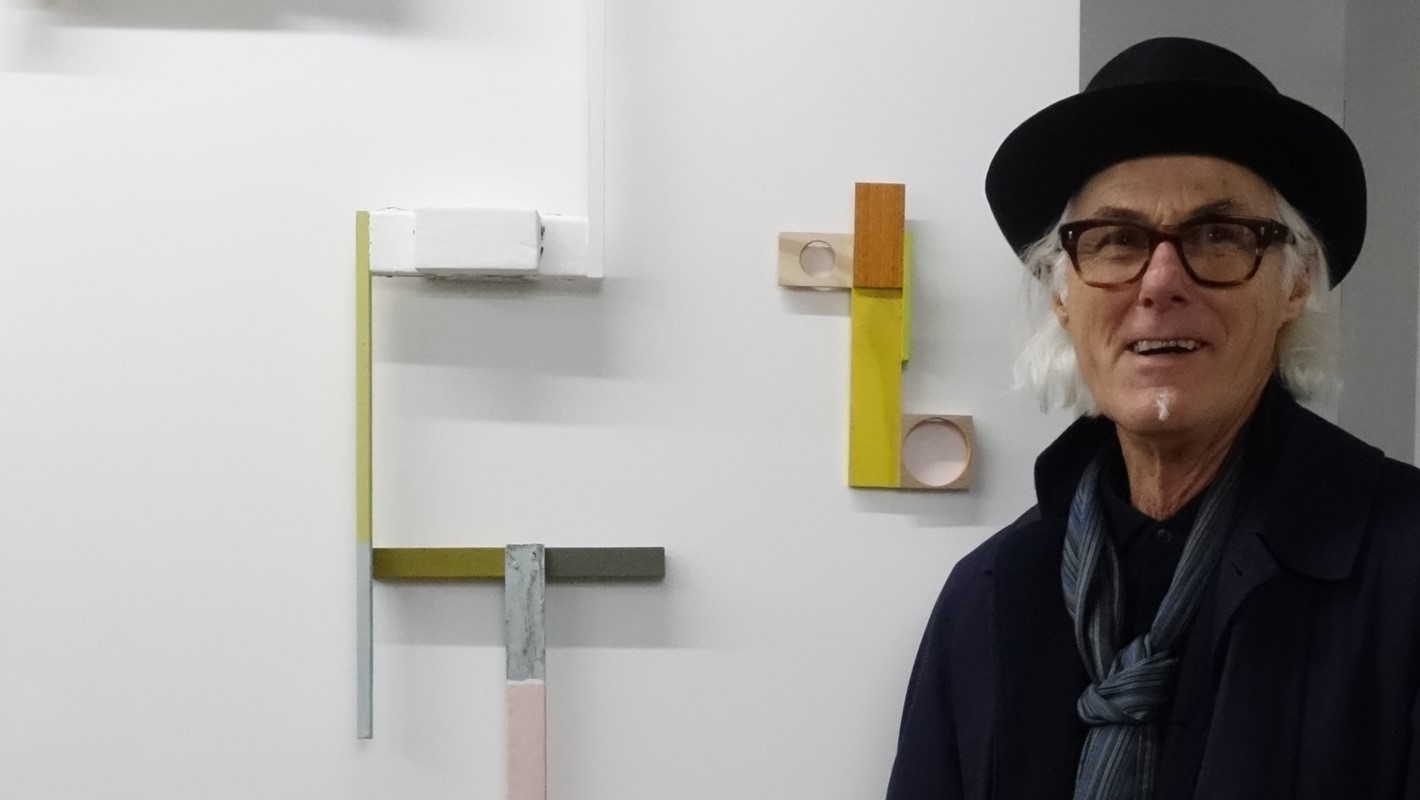 Theo Koning (1950-2022)
Many of you will have heard the sad news that Theo Koning passed away on 14 March. An accomplished and constant artist, Theo's talent and humour remained until his last days when we were honoured to work with him to install and host his final exhibition and publish his artist book 'Get Dressed'. As a dynamic member of the WA art community, loved by so many and a friend to all, Theo will be dearly missed.
Obituary
Recently, a private funeral was conducted for senior WA artist and longstanding Fremantle resident Theo Koning, following his death after a protracted illness. He was 71.
Theo Koning was a much admired and respected WA artist, who had a significant influence on the WA art scene. Shaped by a temperate, reserved character and generous and practical nature, Theo Koning is recognised for his spontaneous, inventive, and ingenious creativity, from which he fostered an irrepressible commitment to art-making that traversed all media and formats, spanning more than five decades. He enjoyed much success as an artist and developed strong lifelong relationships with his peers and likeminded creative networks including sharing time playing snooker.
He was known as an artist who lived his art, a resilient and optimistic person, both frugal and modest in his needs, who actively assisted a coterie of younger emerging artists.
Born in Holland in 1950, Theo arrived in Perth soon after in 1953. Based on a skill set acquired while helping his father renovate the family home, Theo honed a practical affinity with timber through an apprenticeship in wood machining and joinery from 1965. He took up part-time art classes in 1968 and in 1970, aged 20, he completed his apprenticeship and a week later commenced full time art studies. Having accomplished a Diploma in Fine Art (Sculpture) at Claremont Technical College in 1974, he later purchased a property in Chidlow in 1977 before settling in Fremantle in 1980 where he lived with his life partner and raised a family.
Combined with his instinctive collecting, fabrication, and material sensibilities he produced unpretentious artworks that moved between sculpture, assemblage, installation, and painting, using found objects and materials with equal sensitivity and poise.
Theo's output was framed by a European modernist figurative aesthetic and attention to precision influenced by Claremont College stalwarts Leo Kalamaras and Hans Arkeveld. Theo was a regular exhibitor and Fremantle identity and supported many grassroot political causes and worked closely within a network of likeminded artists of his generation including Mark Grey-Smith, Tony Jones, Stuart Elliott, Alex Spremberg and Trevor Richards.
He would go on to establish a substantial career in Perth from his Attfield Street home studio, and exhibit in both private and public settings and worked as an art school tutor at Claremont Technical School, Curtin University and Perth Central TAFE from 1976 until the 1990s.
Highly collectible, Theo's poignant and beautifully concise assemblages of flotsam and jetsam and hard rubbish are held in many homes and public collections, including a significant holding in the City of Fremantle Art Collection. His oeuvre is acknowledged for its enigmatic blend of marine and domestic motifs, and mischievous humour, delivered though an ordered attention to contrasting materials that pack a social critique or political dimension. He was a self-reliant and independent artist who took his cultural responsibilities seriously, participating in the formative activities of west coast artist organisations including the Artists' Foundation of WA, WA Sculptors' Association, WA Artworkers Union, Praxis, Nexus and Terminus.
It was in later years that Theo made good his few opportunities to work intensively, and to take transformative steps with his making. Through engagement with the Mark Howlett Foundation (Project No. 8, 2002–2004), Theo embarked on a year-and-a-half exploration of materials to produce Gatherings, a major grouped and stacked work presented as a conglomerate taxonomy of lost and found materials. A significant achievement was the body of painted works that emerged after he received the Artsource Basel Atelier Mondial Residency in 2015. The experience overseas was central to Theo's rethink and expansion of ideas to subvert the 'language' and history of found materials. The outcomes included incorporation of painted assemblages in the making of large-scale installations.
For a decade later in life, and as a tactic to augment his collaborative enterprises and income, Theo applied his making interests to gardening. He began working regularly in the outdoors, across a sphere of domestic gardens to leave a unique organic imprint of his refined impromptu sculpture across the suburbs of Perth.
He also developed a comradery with a group of men, under the moniker Snooker Boys, who regularly socialised and exhibited together. Including Trevor Richards, Frank Morris and Andrew Hayim de Vries, the Snooker Boys' projects proved popular with local collectors.
Theo won numerous art awards and commissions, including an appointment as Fremantle Festival artist in 1998. He was engaged in regular exhibition activity through an association with Galerie Düsseldorf, Perth Galleries and, in later times, Turner Galleries, and more recently exhibited with his peers, the established group of artists: Art Collective WA. In 2022, he published Get Dressed, a limited-edition collection of over 40 colour reproductions of his original collages.
His work is widely represented in public and private art collections in Western Australia, as well as the majority of State and National Collections in Australia.
Theo was highly regarded and much esteemed. He will be sorely missed by all those who had the pleasure to know and love him.
Andre Lipscombe is Curator, City of Fremantle Art Collection, and an artist member of Art Collective WA.
----
READ MORE about Theo Koning, artist member of Art Collective WA
LISTEN to Collective Conversation, Theo Koning interview with Andre Lipscombe (2017)
PURCHASE 'Get Dressed', limited edition artist book by Theo Koning (2022)
THEO KONING // Mono no aware (exhibition) Art Collective WA, 5 February - 5 March 2022
GILES HOHNEN & THEO KONING (exhibition) Art Collective WA, 1 July - 29 July 2017
FIRST WINNER OF THE MANDORLA ART AWARD (1985)
Installation view of exhibition: Theo Koning // Mono no aware, Art Collective WA, 5 February - 5 March 2022.