Merrick Belyea wins John Stringer Prize 2021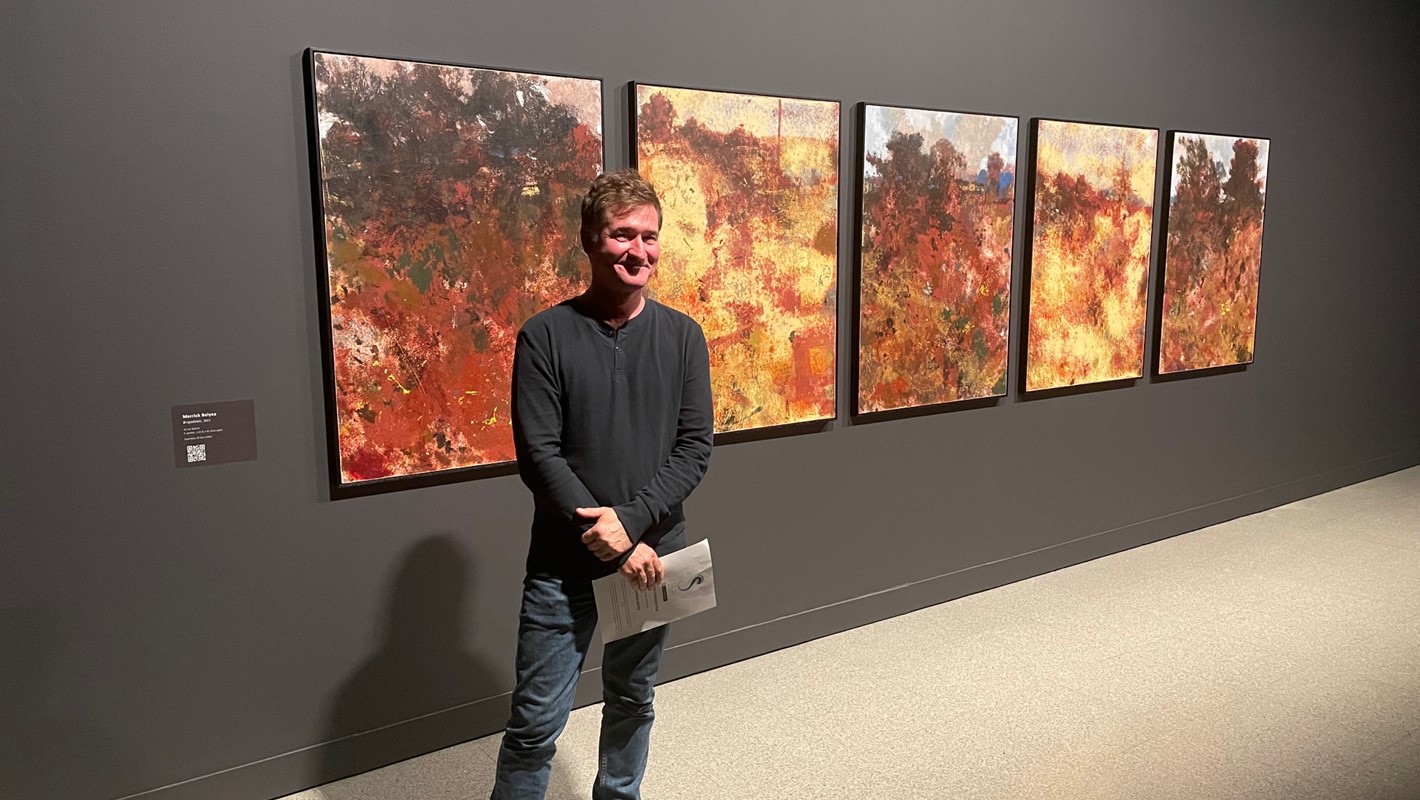 Merrick Belyea wins the The Collectors Club vote for the John Stringer Prize 2021
At a gala event at John Curtin Gallery on 18 November, members of The Collectors Club considered the suite of paintings by Merrick Belyea as visually stunning, with depth and atmosphere, relevant in today's world with its increasing destruction of the environment.... and worthy of winning the prestigious prize, which was created in 2015 in honour of acclaimed curator, the late John Stringer (1945–2007).
On accepting the award, Merrick said he didn't expect to win as there were other worthy nominees, acknowledging that "Often art prizes are won by works a bit more complex than just one medium, or which push boundaries in other ways. ... My work as a painter uses the language of paint – as simple as that, so I wasn't expecting to win at all." *
The five paintings that comprise 'Brigadoon' are based on sketches and colour studies of the suburb Brigadoon, in the Perth foothills, that Merrick captured at different times of the year, or seasons. In an interview with Lyn di Ciero of Artists' Chronicle*, Merrick explains the parallel environmental aspects that underpin the intention of the paintings.
The six finalists in the 2021 award exhibition were selected in March 2021 by an independent panel of WA-based visual arts specialists: Chris Malcolm (Director, John Curtin Gallery), Dr Laetitia Wilson (Exhibitions Manager, Janet Holmes à Court Collection), and Nathan Giles (former Executive Director, Perth Public Art Foundation). Merrick Belyea, Theo Costantino, Daniel Kristjansson, Clare McFarlane, Ross Potter and Lea Taylor were then invited to exhibit a new or recent artwork in November at John Curtin Gallery.
The John Stringer Prize is a non-acquisitive, annual award aimed at recognising and supporting outstanding Western Australian visual art practice and is generously supported by The Collectors Club and the Kerry Stokes Collection.
This is the 7th prize to be awarded in the name of John Stringer. And the second Art Collective WA member to win, after Susan Roux in 2020. Other Collective members selected as finalists in previous years include Olga Cironis, Penny Coss, Sarah Elson, Vanessa Russ, Ron Nyisztor, Brad Rimmer and Michele Theunissen.
The exhibition of the JOHN STRINGER PRIZE - 2021 FINALISTS runs until 15 December 2021 at John Curtin Gallery. Open Mon-Fri 11am-5pm and Sundays 12-4pm.
ARTIST TALKS @johncurtingallery
https://jcg.curtin.edu.au/2021/11/john-stringer-prize-artist-talk/
READ MORE & LISTEN
Read review of 2021 John Stringer Prize by Craig McKeough for Seesaw Magazine: A Well Deserved Win for Belyea.
Listen to Merrick Belyea, Ross Potter and Clare McFarlane talk about their works.
Listen to an interview with Merrick Belyea and Chris Malcolm on RTRfm - Artbeat with Bec Bowman.
Enquire about collecting (purchasing) Merrick Belyea's award-winning work.