Susan Roux wins Stringer Prize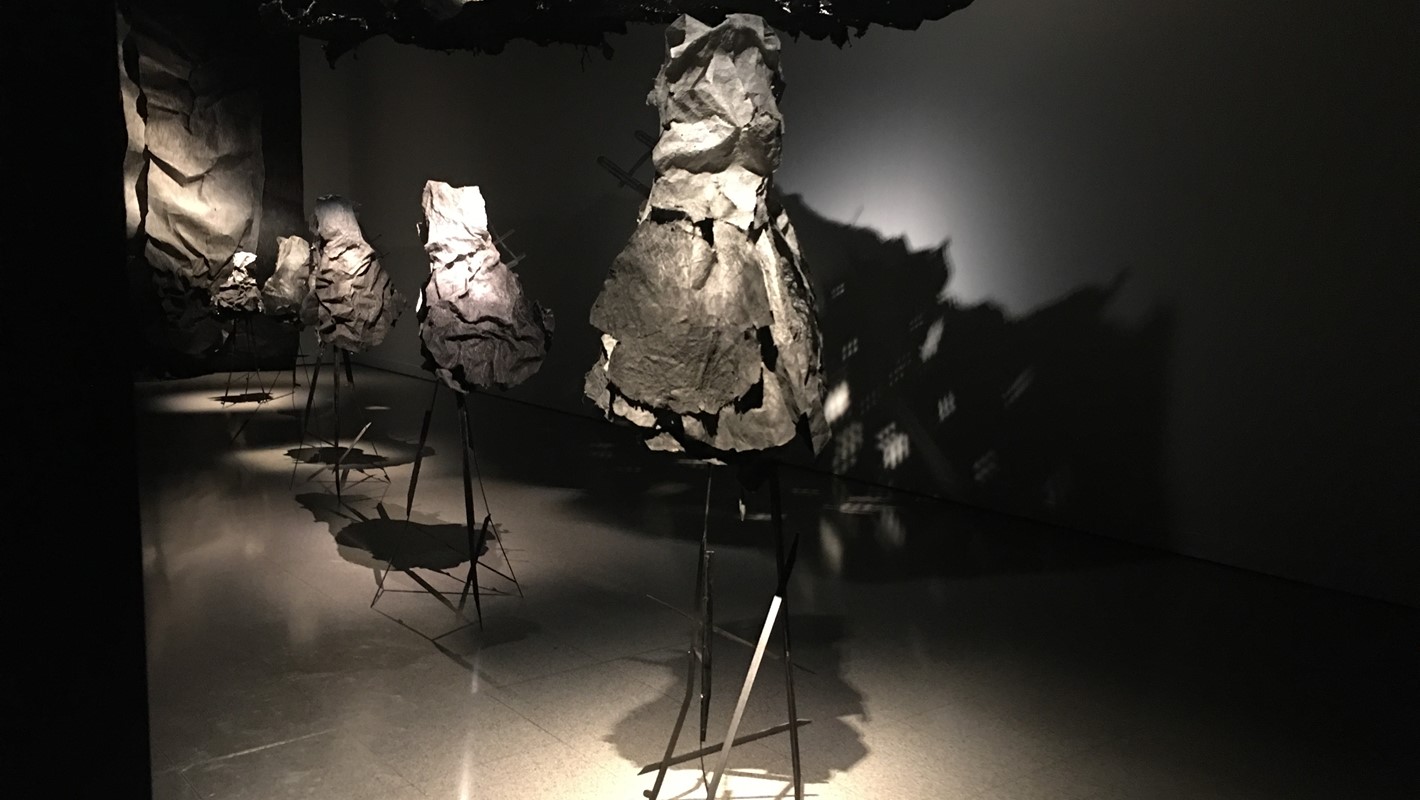 Congratulations Susan Roux, winner of t
he 2020 John Stringer Prize.
Art Collective WA member artist Susan Roux has won this non-acquisitive, annual award aimed at recognising and supporting outstanding Western Australian visual art practice, generously supported by The Collectors Club and the Kerry Stokes Collection.
The finalists exhibition is presented at John Curtin Gallery at Curtin University in Perth, where Susan's work features alongside new work by five other contemporary artists: Eva Fernandez, Fiona Gavino, Peggy Griffiths Madij, Curtis Taylor and Mark Tweedie.
Susan's work is an impressive installation which she terms more of a drawing - comprising a wall work, with five sculptures under the canopy of a ceiling work. She interrogates place, history and belonging, employing paper, stitch, graphite and carbon paper, which she rigorously works, shapes and constructs using purpose-made tools as well as a robust sewing machine and tailors' tools to puncture the surfaces - both creating and destroying tension.
Susan Roux's Artist Statement or Title of the whole work is a form of poetry:
Do I know this Earth?
Or is this – unknown land, barren, and bleak
– laying itself bare not as shelter but as wounded exile,
not for me or anyone?
How do I map such empty soil if it cannot suffer nor keep me?
I survey this landscape.
I form and fill its expanses using paper,
re-plotting its fragile surfaces as encrusted – veiled, suspended
yet marked with the spoors of our might.
I touch those spoors, keeping them always behind my hand
as I score their dotted paths through carbon and darken their scripts in burnt bone.
My drawing tools are sharp, their etching violent and deep.
The inhabitants of my landscape are transitory.
Their attire display imagined territories stitched in Kevlar
– such futile buttressing that does not fool their transience.
They move on, always, each step they take an effort
to measure landscape anew,
to find shelter,
to fit.
Listen to Artist Talk at John Curtin Gallery: Susan Roux and Fiona Gavino in conversation with Jane King.
John Stringer Prize 2020
Exhibition runs until Sunday 13 December 2020.
John Curtin Gallery
Open Monday to Friday 11am–5pm
and Sunday 12pm–4pm.