Exhibition
Olga Cironis // This Space Between Us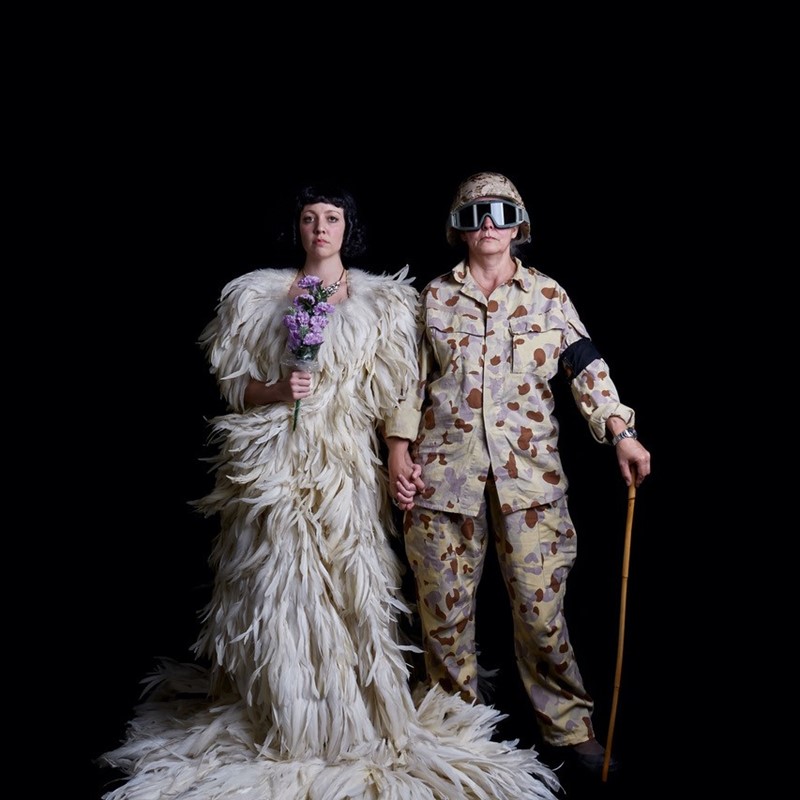 Art Collective WA proudly presents the fourth artist monograph in a publication series about leading artists living and working in Western Australia. Featuring contributions by arts writers Lisa Slade, Paola Anselmi and Jacqueline Millner, the book is the first to focus exclusively on the extensive and multidisciplinary work of Olga Cironis.

Alongside the launch of the book, new, revisited and never-before shown works by the artist will be exhibited in the gallery – touchstones of the powerful themes of displacement, identity and belonging
that have permeated her career over three decades. Through the carefully considered use of familiar and found materials, the aesthetics of each piece coax viewers in, nudging towards self-reflection and making them integral players in the work.

Olga Cironis: This Space Between Us artist monograph is available for purchase directly from the gallery, or via the Publications tab of our website. It will also be distributed through arts bookshops nationally.

OPENING SPEECH BY PAOLA ANSELMI:
This Space Between Us - the title of the exhibition and the monograph publication - is where Olga explores her world. It is the space between our relationships, between our memories, between the past and the present, between fact and fiction, both real and imagined. This is her space.

Olga's work is charged with meaning, it is often a call to arms with a shout and a chuckle in the same breath, sometimes ironic often sardonic, her work rarely screams at the viewer, but her confrontations can be unforgiving.

Her works are like cue cards in a visual debate, establishing a position and inviting questions. Nothing is finite or fixed. Often works are physically reworked, their meaning and their position in a linear development is re-negotiated, reappraised, reviewed. I really like that her methodology implodes the idea of a consecutive undeviating artistic progress; A leads to B to C and so on…it rarely happens. Her practice is like a constellation of ideas, depending on which point you enter into it, the reading of the work might be different. Her world is malleable and never one-dimensional, as we all are.

I have been friends with Olga since 1999. It has been a wild and privileged ride! I don't know how many hours we have spent looking, listening and arguing over philosophical concepts, arguing over Greek and Roman mythology, philosophical positions, politics or the etymological minutia of a single word and its historical manipulations. Exploring her work gives me the same feeling as when at 12 or 13 I finally completed Rubik's cube (without removing the stickers), there was a sense of expectation, then computation and analysis but unlike the cube, which has 42 quintillion possibilities but only one correct answer, Olga's work requires you to find your answer.

The space between us features both new and older work, some not previously exhibited.

Persephone's Rope is one of Olga's new works. Persephone was the wife of the Hades, God of the underworld. The recently completed work features hair donated by people from all over the world bound together by thread and sectioned by 12 wedding rings, again donated. Abducted by force by Hades with the approval of her father Zeus, though not her mother's, it's worth noting. She is a symbol of the underworld but also of eternal spring and immortality, an unbroken chain of life and death.

Deep, Marika and Ballerina are also new works. Deep is the inspiration for the cover of the monograph, and along with Marika and Ballerina further explore the militarised conventions of society globally, women's role in society, and the ongoing fight for equal justice, equal recognition and respect of their lived experiences. A recall to current socio-political events, which although timely, Olga's work has been exposing this narrative for 30 years.

Over those years Cironis has exhibited wrapped objects, including domestic furniture, animals, human and organic forms, found objects and the refuse of everyday life, she voiced her emotion, her expression and that of the people she meets, through text. That is very much part of what Olga does, she meets people, she does not just encounter them. While her works create a sense of that abiding otherness and dislocation that is at the core of her practice, she is very much a player in the narrative. It is not autobiographical in the narrow sense, but it is personal and when I titled the essay "when I am with you it's personal" that is exactly what I meant.

I want to thank Olga for the extraordinary practice that she commits to every moment of the day, and that's not an overstatement. I spoke to her earlier today and she was excitedly explaining a new work and how that visual story was going to unfold….On behalf of Olga I want to thank her family and friends without whose support she couldn't do what she does.
I want to thank Lisa Slade and Jacqueline Millner who contributed to the Monograph with two fabulous essays. In 2017 Lisa curated Sappers & Shrapnel: Contemporary art and the art of the trenches (AGSA) which included Olga's work some of which is shown here today. Jaqueline has known Olga and has followed her practice since the early days at Sydney University in the 1980s.
The Art Collective - Felicity Johnston, Loretta Martella, Merrick Belyea, you have all created an extraordinary organisation with vision and commitment.

With few words, "on the smell of an oily rag", a great deal of energy, lots of humour, and a deep understanding and respect for the industry, the Art Collective has achieved enviable outcomes over the last decade. The Monographs are an example of this, such an important part of the documentation of the artistic visions of this State and a testament of what a strong, local and multiplayer publication framework could achieve for the support of much needed local visual arts research and documentation.

Thank you to all the supporters of the Monograph and the exhibition. This would never have happened without your support and investment in the vision.

Thank you. Enjoy this space between us.