Exhibition
Historical Remnants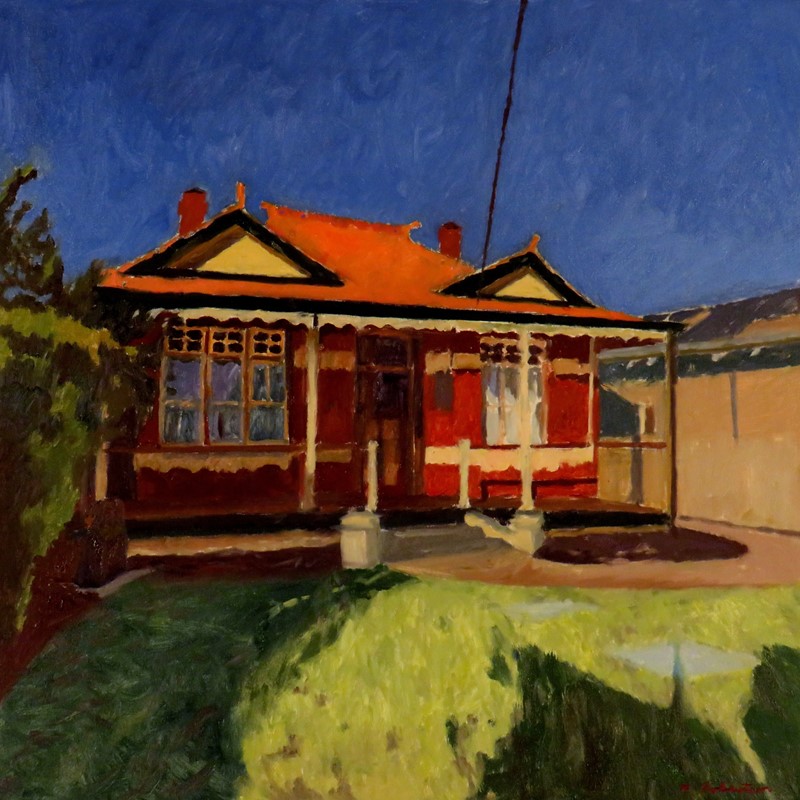 A group exhibition that reflects on the way landscapes, places, objects and markers can be memorialised in our collective memories. The very personal act of commemorating these sites and objects imbues them with a life of their own, inserting them into history.
ARTISTS: Olga Cironis, Jo Darbyshire, Kevin Robertson, Toni Wilkinson, Tony Windberg and guest exhibiting artists Sine MacPherson and Mark Tweedie.

ARTIST STATEMENTS:

JO DARBYSHIRE:
'In Australia a permit is not required to scatter ashes at sea. A ship's Captain can take your loved one's ashes along on a voyage and as the ashes are scattered the mariner's farewell verse is read and the ship's bell tolls eight times. Or you can take your own boat out, free the ashes into the wind and toss flowers into the water, as a final farewell.
Hugal's Passage is the passage of sea between Garden and Carnac Islands, also called Challenger Passage. This was where my father often sailed and we scattered my father's ashes there on the 23rd February 2019.
The Roman Catholic Church believes it is not proper to scatter or pour cremated remains over the sea, water, or on the land: "The church separates itself from attitudes and rites that see in death the definitive obliteration of the person, a stage in the process of reincarnation or the fusion of one's soul with the universe" Cardinal Muller, Catholic News service, 25 October 2016
Many people believe in exactly those three attitudes - for example, Rock Hudson, Neil Armstrong, Robin Williams and Janis Joplin all requested that their ashes be scattered at sea.
There are other reasons for such a watery memorial too. The ashes of the Titanic's fourth officer, Joseph Boxhall, were scattered at sea following his death, aged 83, in 1967, at 41°46N 50°14W, the position he had calculated for the ship on the night of its sinking. And Osama bin Laden's ashes were scattered at sea because as one U.S. official stated: "finding a country willing to accept the remains of the world's most wanted terrorist would have been difficult". It was also done to prevent his burial place from becoming a 'terrorist shrine'.'

TONY WINDBERG:
The 'Sphinx' formation overlooking Anzac Cove embodies the landscape upon which the Australian identity forged itself. As a soldier wrote in 1915, "In darkness and in silence, we were carried towards the land which was to either make or mar the name of Australia." The blood-soaked place across the seas, somewhere else in space and time, has been elevated above the geological or scenic; like the tragic events of the Gallipoli campaign, it has become legendary.
To reconstruct the artwork imagery, a multitude of reference images from many viewpoints were used. Historical photographs merged with modern-day visitor snapshots to create a largely invented composition. The process of fleshing out the bones of the famously daunting terrain was one of looking for clues and piecing together fragments.
In considering how narratives are likewise assembled from multiple perspectives, the artwork imagery spans a triptych structure with illusory receding 'wings', a reference to the traditional hinged religious altarpiece.
The composition was drawn into a foundation of earth pigments, and then covered in repeated layers of materials. These accretions not only echo the geological deposition processes, but the effects of time on clarity. Ash from various Australian sites has been used, representing the numerous origins of Anzac soldiers on their final journey. Marri resin is also used symbolically as a healing substance.
Into these layers, I then scratched and sanded to reveal form and light. This removal of material in carving a human story became a poignant sacrificial process.

KEVIN ROBERTSON:
I was invited to make work for this exhibition and since I was thinking about war memorials, it occurred to me that ANZAC Cottage would be a perfect subject. A modest Australian suburban home in this instance becomes a unique symbol to honour those who served in war time. Incredibly, it was built in one day in Mount Hawthorn by volunteers in February 1916 as a memorial to the soldiers who fought at Gallipoli and also served as a home for a returned soldier and his family. I am grateful for the Vietnam Veterans Association for giving me full access to the site.
After painting ANZAC Cottage, I thought the Axford Park memorial, located at the end of my street, would be a suitably complementary historical site to paint. I became more and more focussed on the strange qualities of the obelisk, which at certain times, has the appearance of having just landed in the park. I was self-conscious at first as I don't normally paint outside so close to home. My respect for this commemoration for soldiers and the prominent Aboriginal flag got me over the line. I worked in the mornings before daybreak and stopped just as the sun came up. The joggers and morning coffee people were friendly and I felt I had taken another step forward as a painter, not just socially, but also with the weird morning palette I used with this painting.

MARK TWEEDIE:
Created on an artist residency in Albany, Mark Tweedie's alluring works on paper depict rugged and familiar coastal locations in the Great Southern's port city. The raw, natural beauty of the landscape always evident, yet working in constant tension with the inherent risks of the notoriously dangerous coastline.

SINE MACPHERSON:
Sine MacPherson found an already made subject with which she could tackle the tradition of floral still life painting. These striking white crosses, with their cacophony of coloured plastic flowers, carved names and assorted tributes, resonated with her, lingering in her memory. She had made note of them as interesting possibilities but rumours that roadside shrines might be removed was the impetus to begin. All were different, but generally contained the same four ingredients: white cross, text, flowers, tributes. Unlike her previous themes, this one came loaded with other's emotions, with their losses, grief and memories. The shrines were very personal and extremely public displays. They were also warning signs to motorists. MacPherson had chosen a difficult subject, but it was an 'already made' that deserved attention, because like no other floral still life of our time, they were a significant part of our local history. These were beautiful ready made, already made, floral still life arrangements.