Exhibition
Hiroshi Kobayashi // Qualiagraph\ Qualiagram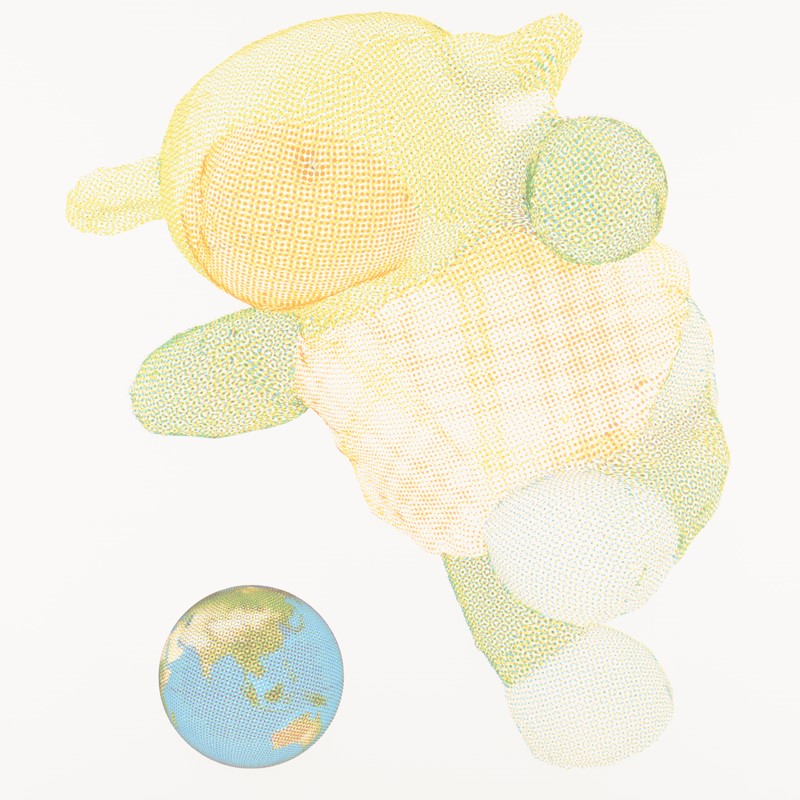 In his first exhibition with Art Collective WA, Hiroshi Kobayashi investigates the idea of time and depth perception, based on digitised photographic images and 3D models. The works examine the relationships between personal memories and commercial products, and how unique objects can be shared in virtual spaces yet maintain their unique qualities.

Hiroshi's paintings of loved childhood toys and geometric models integrate elements of traditional Japanese art techniques such as Ukiyo-e (woodcut printing) with photography and animation. The works are characterised by a layered pictorial space, vibrant dynamics of action, sharp lines and witty allegories. He has developed his own unique and intricate process utilising 3D scanning to depict the representational figures and to manipulate the image, which is then adjusted into separated halftone patterns, in a computer-aided process that is similar to silkscreen printing. The images are then painted onto canvas or paper using a self-made device, which he named a Patagraphy. By marking out computerised paths for the works with dots and hatches onto the canvas, the artist makes the subjects 'float' with smooth, multi-layered patterns.

Hiroshi Kobayashi was born in Fukushima, Japan in 1967 and migrated to Perth with his family in 2016, under a Distinguished Talent Visa. He holds a Bachelor of Fine Arts from Tokyo University of the Arts (Japan) and a Master of Fine Art from The City University of New York, Brooklyn College (USA). He maintains a regular exhibiting practice with galleries in Taipei, Seoul and Tokyo.