Exhibition
Antony Muia // Forest of Dis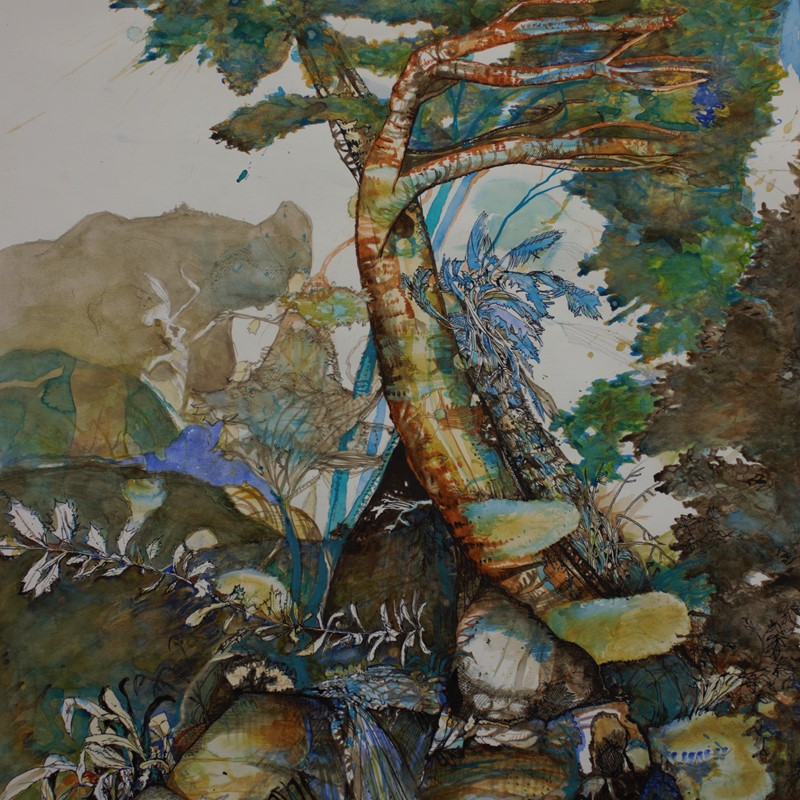 Antony Muia explores the relationship between people and nature – the duality of harmony and tension that coexists between the figure and the natural environment. He meditates on commonalities within the body and the landscape in order to depict a shared responsibility for the future of our planet in this new body of work 'Forest of Dis'.

The Australian landscape is uniquely beautiful and also harsh and unforgiving. There is something complex and alluring about the bush and the effect it has on the human psyche. Our connections with nature are tumultuous to say the least; it is a push-me-pull-me relationship, often determined by our exposure to proportions of chaos and order.

This new body of work, 'Forest of Dis', is influenced by Dante's Divine Comedy and the author's depiction of a medieval after-life. Antony's series of ink and watercolour drawings illustrate geographic locations described in both Greek and Roman mythology, and Dante's epic poem. The meticulous pen and ink illustrations were completed while meditating on similarities between the contemporary world and Dante's poetic interpretations of heaven and hell.

The complex and detailed landscapes of Inferno, Purgatorio and Paradiso are varied and extreme, depicting natural environments and waterways that range from terrifying to awe inspiring.

'Dante's concerns with the afterlife include both heaven and hell. These celestial states may apply to day to day life and somewhat accurately describe the states of being we inhabit and occupy. The ideology documented in Dante's poem translates a grim but striking resemblance to the joys and pain of everyday life.

Maybe the medieval concepts of the afterlife can be used as a template that links indifference, joy and anguish with the landscapes of earth, heaven and hell.'

This exhibition explores these ideas and contemplates the bond between the contemporary figure and the notion of landscape, taking into account the body we inhabit, the states of being we endure and the sacredness of the Forest of Dis.